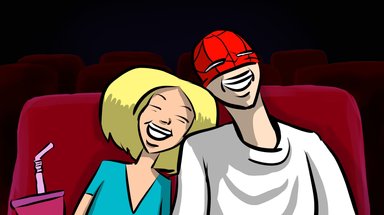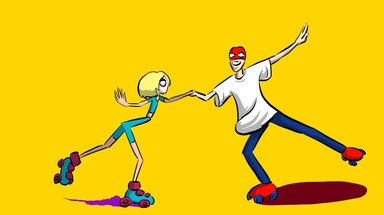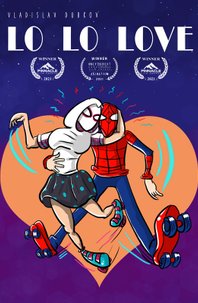 Produced by: Vladislav Dubkov
Besides that, director Vladislav Dubkov is building an interesting and ambitious universe of his body of work. In this sense, he inserts inner references to others of his own films, like "Chimichanga day" and "Gwen and Gwen. Heavy fashion". This is a resource that may seem pointless now, as few people have seen his filmography. Nevertheless, it can turn out to be an extraordinarily rich and envisioning approach. Aiming high is the rule for Dubkov.
Synopsis:
The most beautiful couple... Ok!!!Ok!!! ... one of the most beautiful cosplay couple in Indypolis, Gwen and Spidey. It's time to see a frank and truthful story of a life full of love, trials and problems. We will trace the entire path of their transformation.
The drawings assume rounded figures that are closer to small children-oriented cartoons than to the Stan Lee comic books. Not only the characters but the mise-en-scène assumes this feature. The palette privileges strong colors and the outlines are thick. Besides, only what is essential is brought to the screen. The result is a clean output that fits perfectly to the comedy tone of the animated movie. The jazz song that plays along the whole film also contributes to the lightness and good-humored feeling that makes it so entertaining.
Instead of portraying a hero with superpowers, the film shows the real challenges of an ordinary couple that must cope with their work and their children – three of them, in this case. In only three minutes, the short film clearly communicates the passing of years until their old age. The use of elliptical transitions is abundant but built with logical connections that are easy to understand – and also amusing.
However, it requires the viewer's attention to assess the various references to other movies. As one might notice, they are present right from the title, which is a variation for "La La Land", but also in the animated parody of famous frames like the one in "The Lion King" where the baby is hold up with two hands. But not all of them are easy to be spotted unless you are an expert.
Written & Directed by: Vladislav Dubkov
Lo Lo Love is a fast-pacing animated short film that works with parodies to create its humor. The center of the narrative is a comedic approach to the life of a superhero, Spider Man, or, better said, two regular people who are the cosplayers of him and his girlfriend Gwen.